KMI History and Memorabilia

"What's New - Monthly Review". Guest authors will be encouraged, especially on articles of Civil War History.

Appearing under "What's New" you will also find a "Monthly Review" of updates to KMI Memorabilia Museum DVD.

This Web Page is our opportunity at "Brain Storming" new additions. All comments encouraged

What year was "Character Makes the Man" introduced?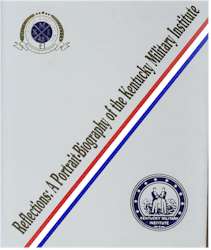 A page from Stephens' History is scheduled to be included in "What's New" monthly review By James Stephens @ 1991 is officially "Out of Print". Some times found available on EBay for $200 plus. Available from Frank Lively '63 on DVD for $25, all proceeds going to Stephens' widow.
Spending 20 years and investing his own $30,000, unrecoverable, the original copies were reasonably sold for $100. From the original state charter, to all kinds of memorabilia, this compendium is outstanding in detail. James Stephens KMI Class of '33 passed away in about 1995 and is dearly missed. Considering the volume of undocumented miss-information, Jim went to great lengths to get the most reliable versions for his "History of KMI". Collecting his information before the advent of the Internet, some, but very little can be found, needing to be corrected. Other than memorabilia and buildings Jim's history is a must have.

---
Stephens' History of KMI"
DVD - $20.00 plus $5.00 Shipping
High Resolution PDF - 300 DPI

Make your $25.00 check out to Frank Lively and mail to the following address:
Frank Lively, KMI '63
5698 Euclid Rd
Cincinnati , OH 45236
( ALL PROFITS WILL BE SENT TO JAMES STEPHENS' WIDOW )

---
Example pages in PDF format:
Page 187 (7.6 megs)
Page 188 (6.5 megs)