Photo by John Stork, KMI '69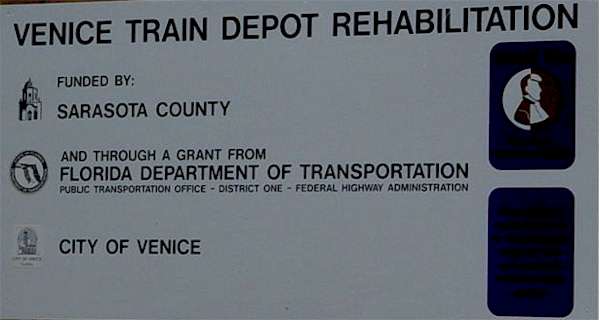 [edited for content]
"The preliminary cost estimate for the restoration is $2.1 million. The work will take about a year", Behn said.
Opened in 1927 by the Brotherhood of Locomotive Engineers, the depot helped bring the Kentucky Military Institute, the Army Air Corps and Ringling Bros. and Barnum & Bailey Circus to Venice. The building hasn't been used for transportation purposes since 1971, when Amtrak discontinued its passenger rail service south of Tampa. But that's scheduled to change. The county intends to relocate its main South County transfer station for Sarasota County Area Transit (SCAT) from Tampa Avenue to the depot. The station will see three to four buses an hour, with none being stored or maintained at the site, according to SCAT officials.
The renovated depot also will have space for as many as four tenants. Potential tenants include restaurants, shops, markets and a museum. Behn said a team is drafting lease terms to divide responsibility between future tenants and the county. Representatives of Venice MainStreet are participating in discussions on lease rates, he said. "We want to command some revenue from the lease space," Behn said, "but we don't want to undermine the prevailing lease rates in the city."
Behn said the county is still negotiating to acquire the rail corridors leading to the depot. If the effort is successful, the bus access route will be moved to the west side of the property, he said. The renovated depot will tie in to planned segments of the Venetian Waterway Park as well as to the county's planned Rails to Trails project, a 12.5-mile trail that will extend to Sawyer Road in Sarasota. When the trail is completed it will be possible to walk, run or bicycle from Sawyer Road to Caspersen Beach.
Rollins Coakley, who has championed the restoration project since 1985, said he is negotiating with CSX Railroad to get a caboose to display at the depot. He has already gotten Ringling to agree to donate a circus car, and said he's confident that a proposal to put a statue of Gunther Gebel-Williams on the site will be successful.
"It's going to happen," he said.
By BOB MUDGE
Published in the "Venice Gondolier Sun" on 12/12/2001
You can e-mail Bob Mudge at bmudge@venicegondolier.com