VHI SUPPORTS VENICE MUSEUM & ARCHIVES


Venice Heritage Inc. (VHI) is dedicated to preserving and promoting the Venice, Florida area's rich cultural heritage

.



Along with its preservation efforts relating to historic properties and landscapes within the City of Venice, the Department of Historical Resources also manages the Venice Museum & Archives (VMA). The mission of the VMA is to collect and preserve historical and archaeological material relating to Venice and the communities of Nokomis, Laurel and Osprey, whose histories have all been interwoven from 1867 to the present time.

The VMA has a collection of 30,000+ photographs, archives, objects, and publications pertaining to area history. The museum engages the public in local history through changing and permanent exhibits, tours of the Triangle Inn, special events, newsletters and social media, as well as onsite and offsite educational outreach programs to youth and adults. Additional services offered also include assisting the public with research and image requests. The museum's gift shop offers books, DVDs and other merchandise pertaining to local history available for purchase.

The museum is located in the historic Triangle Inn and is listed on the National Register of Historic Places. Built in 1927 as an inn, the building was saved from demolition in 1991 and is a beautiful example of Venice's Northern Italian style architecture. The Venice Museum & Archives is free (donations appreciated) and open to the public Mondays through Wednesdays, 10 a.m. – 4 p.m. [Additional days are offered during October through April, on the first and third Saturdays from 11 a.m. – 3 p.m.]

"Venice Museum and Archives" (VMA)

Venice Archives and Area Historical Collection
Home of Venice History
Venice Museum and Archives
351 S. Nassau St.
Venice, FL 34285 across from West Blalock Park
(941) 486-2487

The mission of the Venice Museum and Archives is to collect and preserve historical and archeological material relating to Venice and the communities of Nokomis, Laurel and Osprey, whose histories have all been interwoven from 1867 to the present time. Permanent displays iinclude exhibits regarding the life of Dr. Fred Albee and local fossils collected by Roy and Helen Burgess. A special exhibit is changed periodically.

The facility is open Mondays - Wednesdays, 10 a.m. - 4 p.m., or by appointment.
The Museum's Internet Web site.
Persons interest in donating KMI memorabilia to the
local KMI historical museum should contact the curator below.

JON WATSON
CURATOR AND COLLECTION MANAGER
jwatson@venicegov.com
ALSO on facebook: - https://www.facebook.com/veniceflarchives
Like us on Facebook! www.facebook.com/veniceflarchives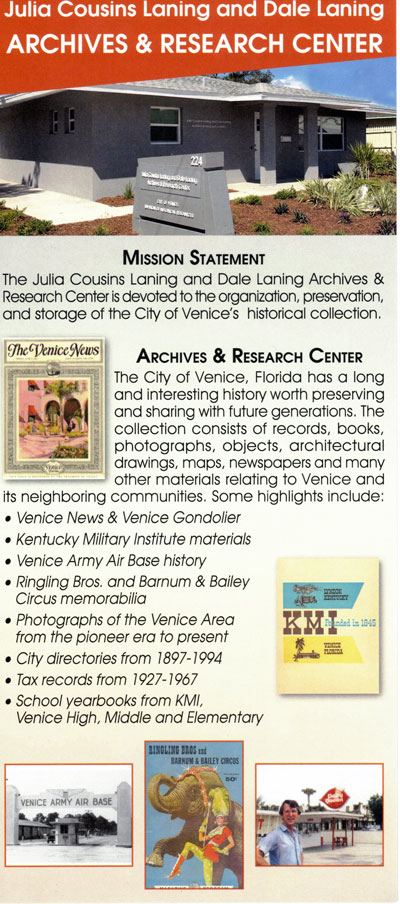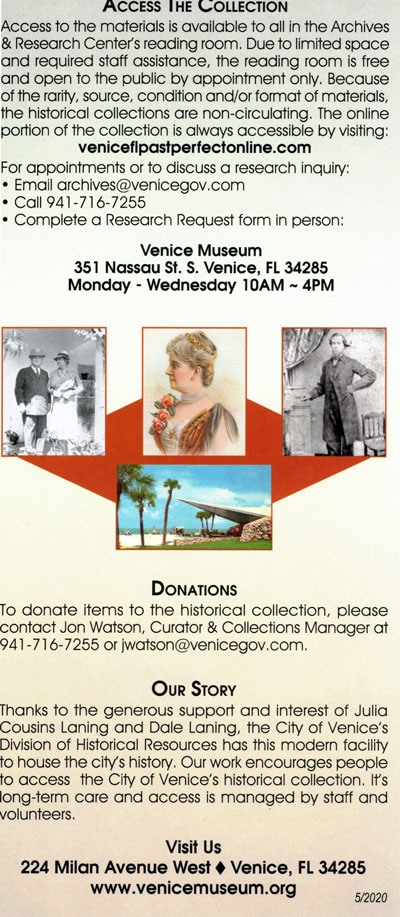 03/24/2021
The Venice Museum and the Cousins-Laning Archives and Research Center has offered to professionally digitally scan all of our Saber yearbooks and place them online. Unfortunately, the Sabers that you donate cannot be returned! If you would like to donate any of your Sabers, please follow the directions below.

If your in Venice, take your yearbook to the Cousins-Laning Archives & Research Center (CLARC), which is located at 224 Milan Avenue West, behind the Venice Library. The person you will see there is Jon Watson, who is curator for Venice's Division of Historical Resources. Jon will have you sign the form "Deed of Gift" formally donating the Saber to the KMI archives.

If your not in Venice, either call Jon at 941-882-7729 or email him ( Jwatson@venicegov.com ) your contact information so that he can send you the "Deed of Gift" form to fill out and sign to include with your Saber(s) when you postal mail your book(s) back to him for scanning and archiving.

KMI Saber Yearbooks Missing from the Venice Museum Collection
Jon Watson – Curator and Collections Manager



Updated 11/23/21




1927,

1928




1933,

1934,

1937,

1939




1943




1951




1967




1970




---
---
02/23/2021
"Thanks to the generosity of the KMI Alumni Association, the display of school memorabilia has been upgraded in the City of Venice's historical museum, located in the historic Triangle Inn. With funds provided through the KMI Legacy Fund, the museum was able to have new display cases created that offer more display space and are more aesthetically pleasing. This display follows the recent installation of the KMI exhibit in the San Marco Building. Alumni will have a chance to view both of these displays at the next reunion in Venice, hopefully to be held in the fall."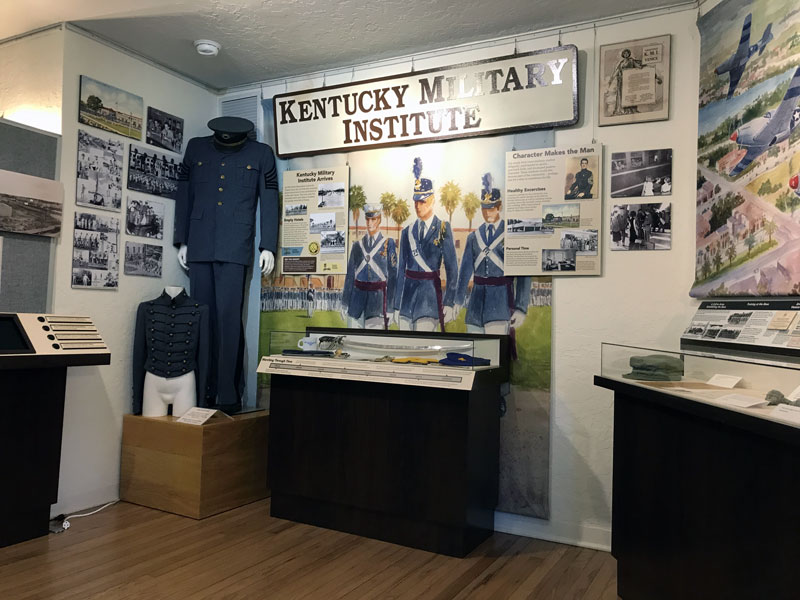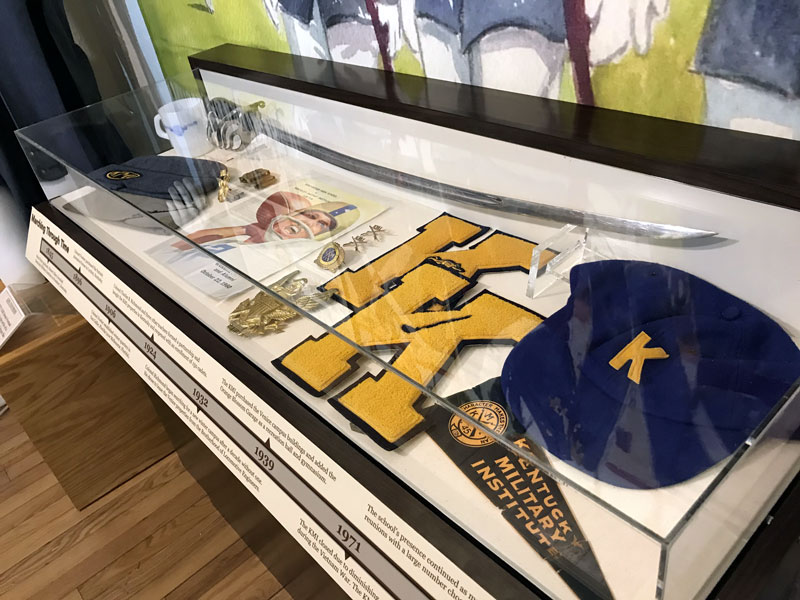 "Kentucky Military Institute: Celebrating 37 Years in Venice"
on exhibit at the Venice Museum and Archives" (VMA) through

November 16, 2013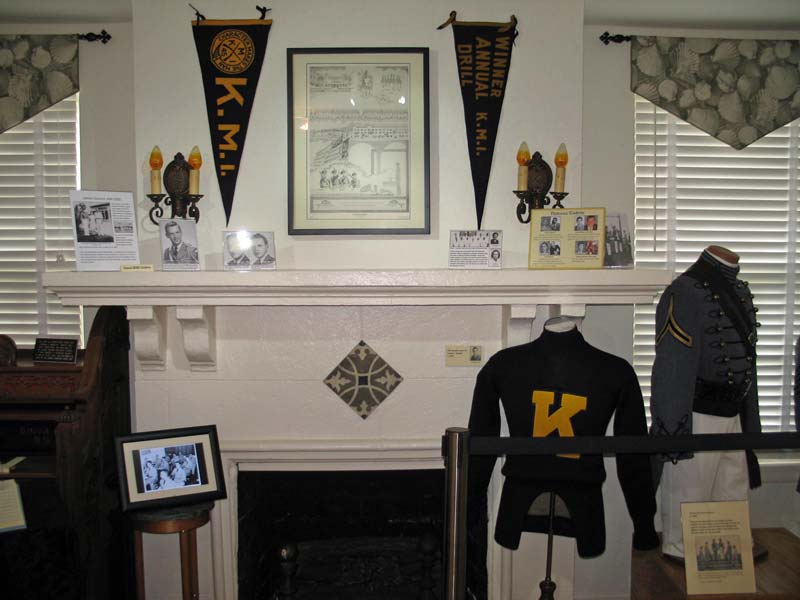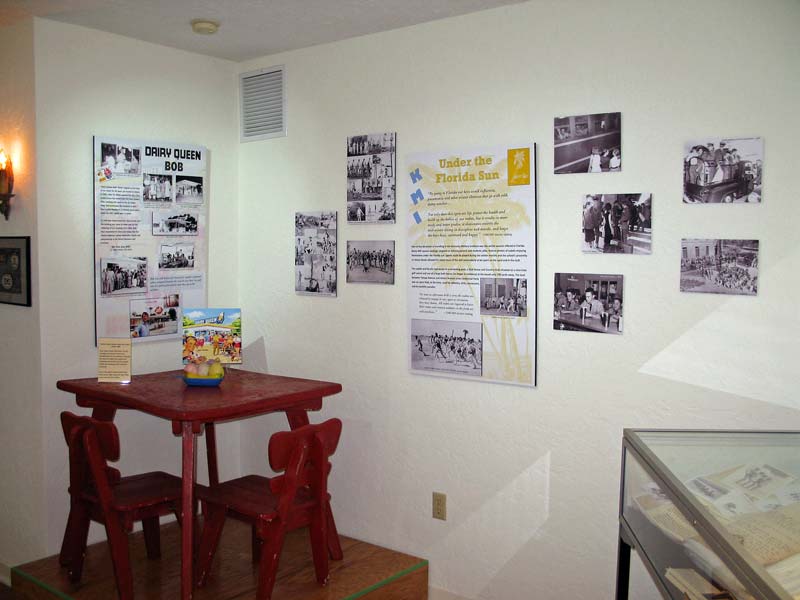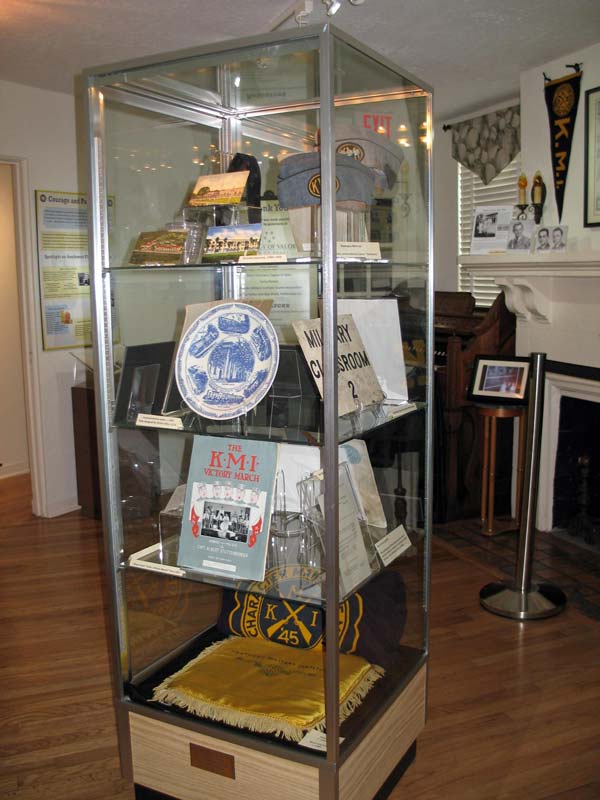 Venice Museum » Contact Us
http://www.venicemuseum.org/contact-us
351 Nassau Street South, Venice, FL 34285 Monday, Tuesday and Wednesday 10am-4pm 1st and 3rd Saturday, October-April 11am-3pm FREE ADMISSION (941) 486-2487
TO DONATE TO THE KMI COLLECTION CONTACT JON WATSON:

Jon Watson – Curator and Collections Manager, jwatson@venicegov.com From the Florida Keys, Jon Watson, was most recently the Museum Assistant at the History of Diving Museum in Islamorada, Florida, a post he held since September 2016. His duties museum guest orientation and membership applications. Watson also researched current collections and updated interpretation panels within museum exhibits, and maintained, cleaned and monitored artifacts within exhibits. "I could not gorgeous city that is so entrenched in signicant cultural history. I am very dedicated to preserving Venice's tremendous history as we move forward and continue to grow as a great As Collections Manager at the City of Farmington, New Mexico Museum from September 2011 to August 2013, Jon was the point person for managing and overseeing the intake and materials. From June 2010 to August 2011 Watson was the Manager of Collections at Yellowstone County Museum in Billings, Montana. There, he managed over 20,000 artifacts including incom this locked storage facility, he designed a research room that allowed patrons to look through the digital records of the museum's artifacts and request research times to view desire Database". The project, funded by an Institute of Museum and Library Science federal grant, required the planning and implementation of digitally preserving all items within the col Originally from Farmington Hills, Michigan, Watson holds a bachelor's degree in Public History with a concentration in Museum Studies from Western Michigan University. Of the Ven University. After my undergraduate studies, I worked 6 years as a Collections Manager at 4 dierent museums throughout the west. The diversity in jobs allowed me to gain experien in professional museum writing and curatorial services producing exhibits for Texas State University, Texas Parks and Wildlife, and most recently the History of Diving Museum in Isla Watson intends to combine both his professional skills in collections management and curatorial service in his work for the Venice Museum & Archives. By combining these skills, the proud of, he said. "It is my professional goal to use the fabulous resources at the museum to promote the signicant heritage of the city of Venice," Watson added. "The city's wonde and by its tourists." Watson, whose parents live in Bonita Springs, has relocated to Venice Island.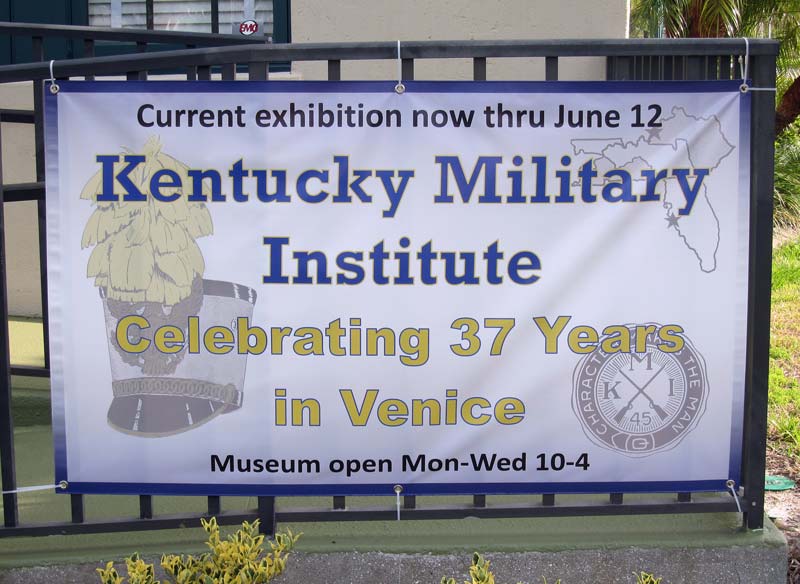 2013 Reunion
Photograph by Jim Flora, KMI '62


2013 Reunion
Photograph by Jim Flora, KMI '62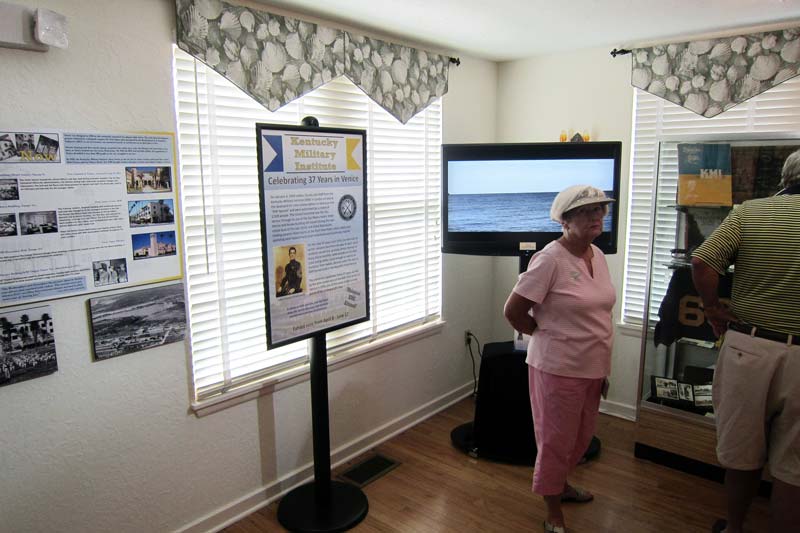 2013 Reunion
Photograph by Jim Flora, KMI '62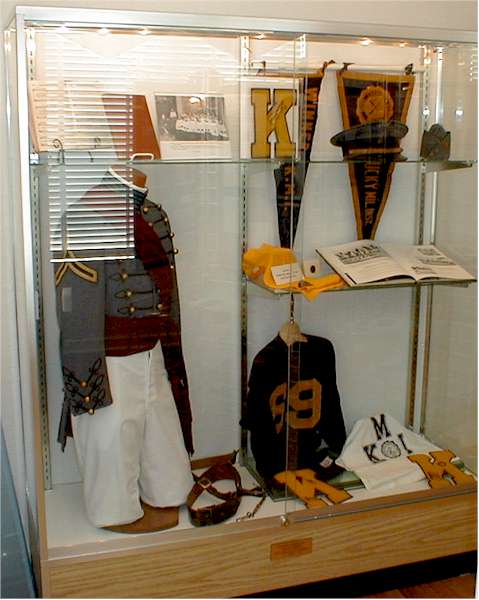 [2003 Photograph by Frank Lively, KMI '63]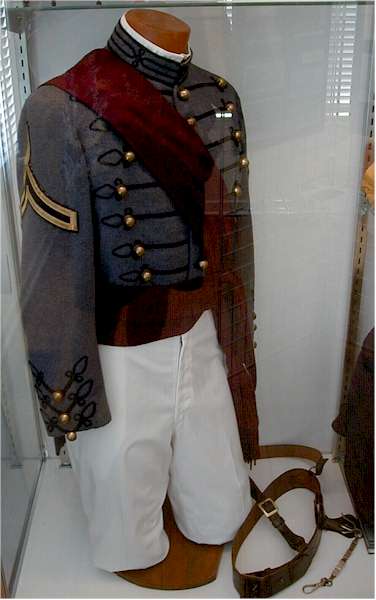 [2003 Photograph by Jim Flora, KMI '62]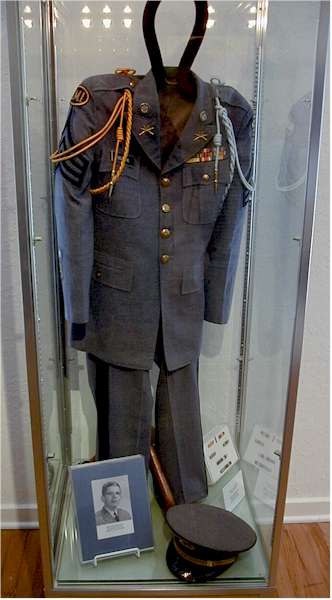 [2003 Photograph by Jim Flora, KMI '62]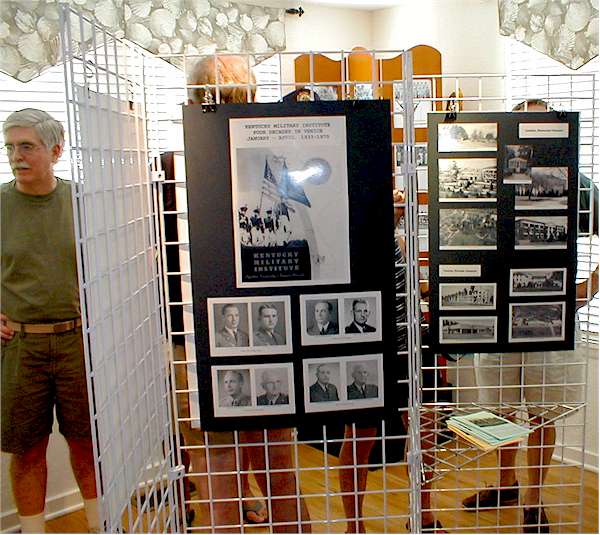 1958 Cadet Major Richard Stevenson, past president of KMI Alumni Assoc.
[2003 Photograph by Frank Lively, KMI '63]


[2003 Photograph by Frank Lively, KMI '63]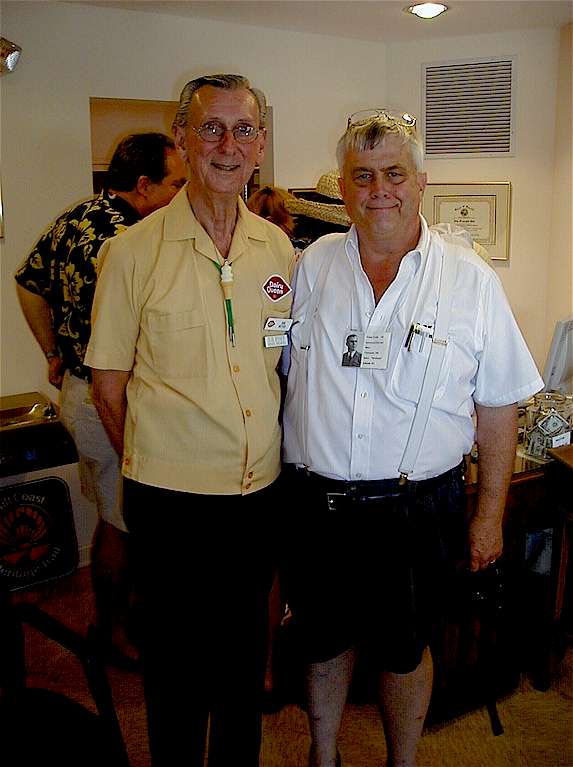 Frank Lively '63 with past museum guide, Bob Briner (Apr. 29, 1932 - Jan. 31, 2013).
[Former owner of the Dairy Queen]
The D.Q. has been torn down to make way for the
new bridge. The old location was behind the Armory/gym on Tamami Trail.
[2003 Photograph by Jim Flora, KMI '62]
---
C. Robert "Bob" Briner

Apr. 29, 1932 - Jan. 31, 2013

C. Robert "Bob" Briner of Venice, FL died on January 31, 2013. Bob was born in Harrisburg, Pennsylvania on April, 29, 1932. Bob moved to Venice in 1952 with his family when his father built the Venice Motel, which was located at the North end Business 41. Beginning in 1953, Bob became the owner and operator of the Venice Dairy Queen, across the street from the motel. He was well known for having his regular customers' orders prepared between the time he saw their car pull into the parking lot and the time they got to the window. For 46 years, until 1999, Bob faithfully kept his Dairy Queen in operation. Every other year, Bob travelled all over the world to DQ conventions. He extended an invitation to his brother, Lee, and his wife to Hawaii on one of the conventions for Lee to celebrate his 25th wedding anniversary. After he retired, Bob especially enjoyed vacationing in the North Carolina Mountains each summer in a cabin near Chimney Rock with his friend Norman. When it was time to return to Venice, Bob rarely wanted to leave the mountains. In 2003, Bob, brother Lee, Lee's wife Linda and Norman, embarked on a 6 week driving expedition to Alaska.
Bob became very active in the Triangle Inn Association, now known as Venice Heritage Inc. He would donate countless hours of time and allowed the use of his Dairy Queen's "red table" for many displays.

Bob was also active at Venice Nokomis United Methodist Church, serving on many committees. Bob served as an usher and Chairman of the Ushers for a number of years. He was also known for opening his home to visiting ministers.

An extension of Venice Nokomis UMC, the Bargain Center, also benefited from Bob's generosity. He began volunteering there after he retired from Dairy Queen, but would recognize shoppers by their DQ order. He was a faithful volunteer every Tuesday and served on the Board of Directors.
Bob was also an active member of the Manasota Theatre Organ Society. In 1999, he and Norman took a trip to London, England with the American Theatre Organ Society and also visited Sheffield to stay a week with close friends.
Bob was known to all as a very caring and generous person who will be greatly missed.