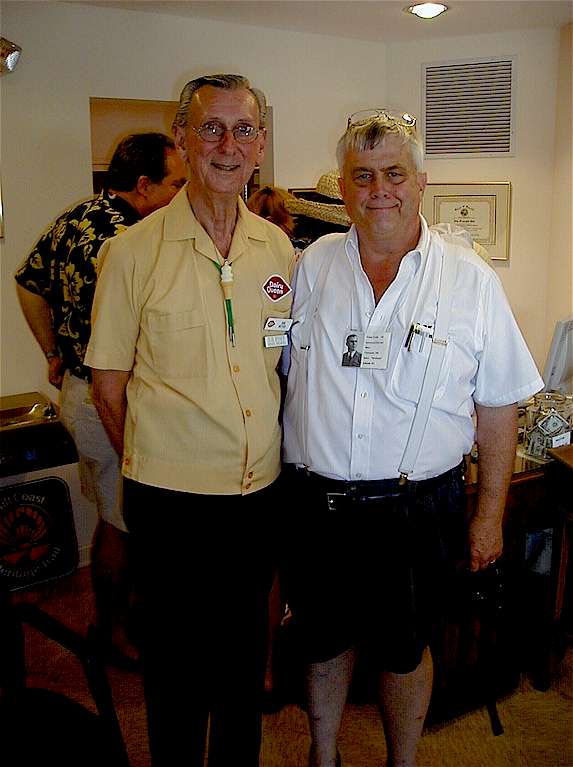 Frank Lively '63 with past museum guide, Bob Briner (Apr. 29, 1932 - Jan. 31, 2013).
[Former owner of the Dairy Queen]
The D.Q. has been torn down to make way for the
new bridge. The old location was behind the Armory/gym on Tamami Trail.
[2003 Photograph by Jim Flora, KMI '62]
---
C. Robert "Bob" Briner

Apr. 29, 1932 - Jan. 31, 2013

C. Robert "Bob" Briner of Venice, FL died on January 31, 2013. Bob was born in Harrisburg, Pennsylvania on April, 29, 1932. Bob moved to Venice in 1952 with his family when his father built the Venice Motel, which was located at the North end Business 41. Beginning in 1953, Bob became the owner and operator of the Venice Dairy Queen, across the street from the motel. He was well known for having his regular customers' orders prepared between the time he saw their car pull into the parking lot and the time they got to the window. For 46 years, until 1999, Bob faithfully kept his Dairy Queen in operation. Every other year, Bob travelled all over the world to DQ conventions. He extended an invitation to his brother, Lee, and his wife to Hawaii on one of the conventions for Lee to celebrate his 25th wedding anniversary. After he retired, Bob especially enjoyed vacationing in the North Carolina Mountains each summer in a cabin near Chimney Rock with his friend Norman. When it was time to return to Venice, Bob rarely wanted to leave the mountains. In 2003, Bob, brother Lee, Lee's wife Linda and Norman, embarked on a 6 week driving expedition to Alaska.
Bob became very active in the Triangle Inn Association, now known as Venice Heritage Inc. He would donate countless hours of time and allowed the use of his Dairy Queen's "red table" for many displays.

Bob was also active at Venice Nokomis United Methodist Church, serving on many committees. Bob served as an usher and Chairman of the Ushers for a number of years. He was also known for opening his home to visiting ministers.

An extension of Venice Nokomis UMC, the Bargain Center, also benefited from Bob's generosity. He began volunteering there after he retired from Dairy Queen, but would recognize shoppers by their DQ order. He was a faithful volunteer every Tuesday and served on the Board of Directors.
Bob was also an active member of the Manasota Theatre Organ Society. In 1999, he and Norman took a trip to London, England with the American Theatre Organ Society and also visited Sheffield to stay a week with close friends.
Bob was known to all as a very caring and generous person who will be greatly missed.