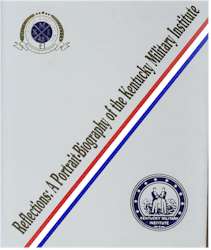 TABLE OF CONTENTS:
[To view example content from the book, click here]

"OUT OF PRINT"
Stephens' History of KMI"
Reflections:
Portrait Biography
of KMI (1845-1971)."
DVD - $20.00 plus $5.00 Shipping
High Resolution PDF - 300 DPI

(using "Free" Adobe Acrobat Reader)

Make your $25.00 check out to Frank Lively and mail to the following address:
Frank Lively, KMI '63
5698 Euclid Rd
Cincinnati , OH 45236
Frank Lively ('63) Livelyma2002@yahoo.com

( ALL PROFITS WILL BE SENT TO JAMES STEPHENS' WIDOW )

---
Example pages in PDF format:
Page 187 (7.6 megs)
Page 188 (6.5 megs)
Reflections: A Portrait - Biography of the Kentucky Military Institute [1845 - 1971] Volume One
James Darwin Stephens [1916-96] / Copyrighted 1991 / ISBN: 0-9626042-0-8
This is an "as historically complete" coverage of 1800 's and KMI "Civil War" cadets as I could imagine could be found. Pictures & class information "exceedingly well documented" from 1845-1924. These documents believed to be stored in University of Kentucky's Historical Archives, since James Stephens died in 1996.
From 1926 through Colonel Richmond's death in 1968, Charles B. Richmond's rein became known as "The glory Days of KMI."
All of the alumni records that Major Owens collected, disappeared upon the death of Mrs. Richmond in 1972, and the school closed almost immediately.
James Stephens KMI Class of 1933 spent $30,000 recreating as best he could, information collected at reunions and from those who would respond.
Many of KMI's Cadet Legends responded.
In Volume Two, James Stephens was to have detailed the stories of pranks, memories, traditions and friendships which he never finished.
About the only thing missing from this book is life stories of what it was like to be a KMI participant.
Something that was difficult to revive, since Cadet KMI 's hopes for continued fellowships were personally crushed by the "Stormy Closing" in 1972.
This book provided the leads to find the elder graduates of KMI, who turned out for the "amazingly successful Reunion of Venice 2003," which happened to set the "High water Mark" for all KMI reunions.
We "Salute" James Stephens for his fine work.
by Frank Lively ' 63
---