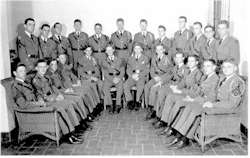 1947
The HI-Y is a national organization and was first started at K.M.I. in the 1944-45 school year by a group of juniors and seniors to promote Christian fellowship. The club was organized under the sponsorship of Captain J.H. Peak.
The aim of HI-Y was to have clean speech, clean thoughts, and clean living as the guide for its members and the cadets of the school.
It took a unanimous vote of all the current members to admit a new member to HI-Y.
In 1945, the club sponsored a project to sell bonds and stamps in the Sixth War Loan and raised $5,600. In 1946 and 1947, the club sponsored a dance.