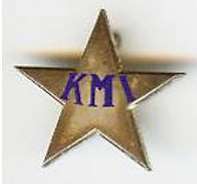 I picked up this item from e-bay. The size of the silver colored star is almost one inch across - star point to star point. Blue is one of the colors of KMI. The seller stated it was a KMI DI insignia.
Have you ever seen anything like this? I hope it is KMI material.


Thank you for any info you may run across.
William V. Brand
Military department 1963 - 1966
---
Sunday, August 15, 2004
Gentlemen;
Although I did not attend KMI, several of my cronies did. They all turned out to be splendid people; their time there was well spent.
To the point. A friend came across a golden cast iron statue of a military figure about 6" in height. On a strap that runs diagonally across its chest is the word CADET, and on the front of the base is the word LOUISVILLE. On the rear of the base are the numbers 8 14 74.
The figure also sports a short billed cap with chin strap and a plume of sorts in the top front. He is standing at attention.
Do you know if KMI ever put out such a figure? I have been unable to turn up any evidence of any other military school locally, and in the 1970's there was no KMI and iron castings had been replaced by trophy replicas.
Thanks for any help;
Sincerely;
Eddie Gilmore
Eastern High School
Class of '64
Mystery solved - was in Louisville at the flea market yesterday - saw an example of the figure that is described here. The banner at the bottom also has and I and H at the end of the banner that says Louisville. It is a advertising figure put out by International Harvester in honor of its Cadet tractor.
It was an interesting piece - seller wanted $35 for the figure.
Hope this answers the mail.
Tommy Young, KMI '59