The Kentucky Military Institute was established by Colonel Robert Thomas Pircairn Allen, a graduate of West Point, who was experienced in military and education. After graduation in 1834, Allen served as a captain in the Seminole War and supervised military activities on Lake Michigan. He married Julia Bond, niece of President Andrew Jackson, whom he had met while visiting the White House. After his retirement from the Army, Allen served as a mathematics instructor at Transylvania University in Lexington, Kentucky. Allen and Julia visited the Scanlan Spring, or Franklin Springs, as it was sometimes called. He was impressed with the beauty and country atmosphere and thought this would be a good location for a private military school. The property was located on Farmdale Road about six miles south of Frankfort. By carriage it took about an hour to arrive at the springs. In 1845, Allen purchased the property and opened his school as Kentucky Institute. Two years later a charter was granted by the General Assembly to Kentucky Military Institute. The school had a reputation for its excellent instructors, a demanding course of study and strict discipline. It attracted many students from the South and a few from the North. After the Civil War, the school changed its curriculum to prepare students for professional occupations. Robert Allen turned control of the school over to his son, Robert D. Allen. The school fell into bankruptcy in 1887 and closed its' doors, however, reopened the next year. Later KMI left its campus in Frankfort and moved to Mt. Sterling, Kentucky.
Dr. John Q. A. Stewart, superintendent of the Kentucky Feeble-Minded Institute, resigned his position and purchased the abandoned KMI property in 1893. He opened his establishment on September 1, 1893, as a school for the mentally challenged. Today, Stewart Home School remains under the supervision of the Stewart family as a well known and highly regarded facility for special education
In 1896, under the supervision of Charles Wesley Fowler, Kentucky Military Institute was again moved from Mt. Sterling to a campus in Jefferson County, Kentucky near Lyndon. Fowler, in 1906, began the practice of moving students and faculty to a winter campus in Florida during the months between Christmas and Easter. In 1924, the school again closed and reopened the following year under superintendent Charles B. Richmond. According to the city archives, KMI moved to Venice, Florida in 1932. The school prospered greatly under his direction. However, by the late 1960's dissatisfaction with the military and rising tuition cost caused financial difficulties for KMI and other military schools. KMI was closed for the last time in 1973.

Sources:
Capital on the Kentucky, by Kramer
The Kentucky Encyclopedia, by Kleber
Venice, Florida city archives
---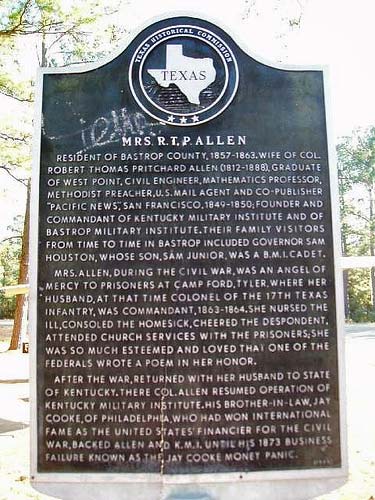 Source: photo by
ednurseathkh on
Flickr.com
"Resident of Bastrop County, 1857-1863. Wife of Col. Robert Thomas Pritchard Allen (1812-1888), graduate of West Point, Civil engineer, mathematics professor, Methodist preacher, U. S. mail agent and co-publisher "Pacific News," San Francisco, 1849-1850; founder and commandant of Kentucky Military Institute and of Bastrop Military Institute." "Their family visitors from time to time in Bastrop included Governor Sam Houston, whose son, Sam Junior, was a B.M.I. cadet."
"Mrs. Allen, during the Civil War, was an angel of mercy to prisoners at Camp Ford, Tyler, where her husband, at that time colonel of the 17th Texas Infantry, was commandant, 1863-1864." "She nursed the ill, consoled the homesick, cheered the despondent, attended church services with the prisoners; she was so much esteemed and loved that one of the Federals wrote a poem in her honor."
"After the war, returned with her husband to state of Kentucky." "There Col. Allen resumed operation of Kentucky Military Institute." "His brother-in-law, Jay Cooke, of Philadelphia, who had won international fame as the United States' financier for the Civil War, backed Allen and K. M. I. until his 1873 business failure known as the Jay Cooke Money Panic ."
---
Birth: Sep. 26, 1813
Death: Jul. 9, 1888



GEN. R.T.P. ALLEN was born in Baltimore County, Md., September 26, 1813, and is a son of Richard and Sarah (Hughes) Allen, both of Ireland. Gen. Allen graduated at the military academy at West Point in 1834; went into the Third Artillery, but served with the topographical engineers one year, until the Florida war; served as lieutenant of artillery in Gen. Scott's campaign against the Seminoles, when he resigned to go as a civil engineer in the government service, building harbors on Lake Erie, where he was engaged until the fall of 1838. He then resigned and became professor of the chair of mathematics and civil engineering in Alleghany College, at Meadville, Penn., where he remained until 1841, when he was appointed to the same chair of Transylvania University, Lexington, Ky., which he remained until 1845. In the fall of that year he established the Kentucky Military Institute, continuing until 1849 as superintendent, when he was appointed by President Taylor to take charge of the post office department of California and Oregon, which duty he performed until 1851. He then resigned and came back to Kentucky, to Franklin County, and resumed the position of superintendent of the Kentucky Military Institute, which he retained until 1854; then resigned and went to Cleveland, Ohio, and engaged until 1857 in general business, but principally in the coal business. In 1857 he went to Texas and established the Bastrop Military Institute; continued as superintendent of the school until the late war, when he closed the school and raised a regiment for the Confederate Army and went into the field in 1862. He remained two years and was then appointed to take charge of the prison camp near Tyler, Tex., where he remained one year; then resigned and took charge of the school in Texas again and remained until 1866; resigned and came to Franklin County, Ky., and resumed charge of the Kentucky Military Institute and continued as superintendent until 1874. Then his son, Col. Robert D. Allen, became superintendent, and the General became professor of the chair of mathematics, and continued until 1877, when he resigned and moved to Florida. There he engaged in orange culture until 1884, but in the meantime, from 1877 to 1884, was engaged in steamboat transportation between Lakes Tohopokaliga and Ocheechobee, Florida. In 1884 he returned to the Kentucky Military Institute and became professor of natural science. His son, Col. Robert D. Allen, was the superintendent, and John T. Gray the business manager. Gen. Allen was married July 8, 1834, to Julia A. Dickinson, of Nashville, Tenn., daughter of Jacob T. and Patsy (Bond) Dickinson, and great-granddaughter of Fell, who once owned the eastern part of Baltimore, Md. Two children blessed this union: Robert D. Allen, whose first wife was Miss Laura Sims, of Texas, by whom he had four children, of whom one only survives. Miss Minnie Green, of Louisville, Ky., is his second wife. Maj. Robert Sims Allen, the only surviving child, is now commandant of cadets at the Kentucky Military Institute. John Howard Allen is the general's second son, and is now practicing law in Orlando, Fla. He married Miss Sallie Bell, of Texas, and has five children: Howard J., Jay Cooke, Walter, Mary B. and Percy. Mrs. Sallie B. Allen died in 1886. Gen. Allen and wife are members of the Methodist Episcopal Church South, and he has been an elder for a number of years. He is also a Knight Templar. The secret of Gen. Allen's success in both public and private life rests in his stanch adherence to principle, his energy, his accuracy and a thorough performance of every duty. He is modest with regard to himself, unselfish and thoroughly amiable in disposition.



-- Kentucky: A History of the State, Battle, Perrin, & Kniffin, 5th ed., 1887