Hotel Du Nil (Hotel of the Nile)

in 1895 in the town of Sarno Florida.
John Green was an entrepreneur who planned and developed a hotel and resort cottages for wealthy northerners because he thought that the railroad, which was being built through south Florida, would bring wealthy Northerner tourists. The resort that he developed had a fresh water pool, lawn bowling and tennis courts, running water, a ridding stable with horses, and a large hotel with cottages. He named the area where he built his resort Sarno after a city in India. The hotel and everything connected with it were abandoned only a few years later due to a lack of anticipated tourists. (The railroad moved on and killed the boom.) The town of Sarno, became a ghost town as well. When Col. Fowler bought it about 1904, he renamed it Military Park and built new cottages and enlarged the present ones seen in the view below. The DuNil hotel was renamed the Military Inn. The Military Park post office was opened in January of 1914 and each year 250 to 300 students came for winter classes. KMI remained in Eau Gallie until 1921, when the school was destroyed by fire. Many of the parents of KMI students built winter homes in the area.
1895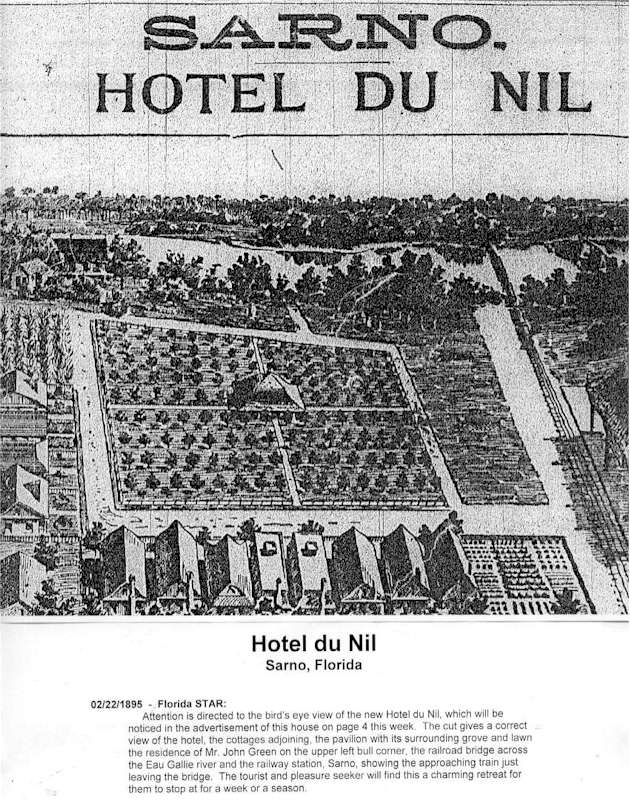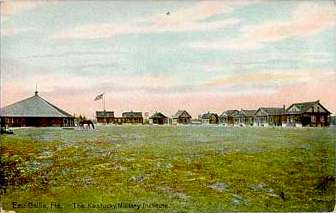 If you compare this to this old color postcard of the school, you can see the pavilion in both. The postcard also shows cottages to the right of the pavilion which were not part of Green's original structures. If they had been, you would see them at the top of the 1895 view.
Ann Raley Flotte,
Melbourne Florida

[Historian and author of local Melbourne history as well as a collector.]